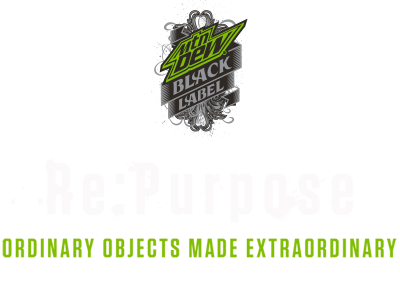 To celebrate the boldly refined taste of Mtn Dew Black Label, Green Label is curating an art exhibition, Re:Purpose, Ordinary Objects Made Extraordinary, featuring seven artists who fearlessly reinvent everyday materials. In partnership with Wallplay, Re:Purpose invites visitors to enter a surreal and playful world where Legos, iPhone parts, and old sneaker boxes are used to create elaborate works of art. All materials offer a different perspective on their new, often improved, use as art objects.
What all of these artists have in common is their dedication to creating extraordinary works with unexpected media, repurposing and thereby reinventing objects we may have never viewed as art. Is a kevlar vest better suited as a teddy bear? Are your old shoeboxes proving to be more useful as a sculpture? With regard to purpose, this decision is in the eye of the beholder.
Christophe Roberts is challenging the ordinary, reimagining his old sneaker boxes as larger-than-life sculptures.
---
Christophe Roberts
Not your average sneakerhead, artist Christophe Roberts deconstructs old sneaker boxes and recycles their parts into intricate sculptures. From large-scale lions and sharks to mythological creatures, Roberts's masterpieces hardly resemble their original forms, but speak to the possibilities of reimagining existing materials.
Roberts is influenced heavily by hip-hop culture, even collaborating with Wu-Tang Clan at Wallplay in 2013. Dubbed The Legend of GFK, the piece gave a mythological approach to Ghostface Killah's iconic role in the group.
---
see green label's coverage of the best emerging creatives remixing the ordinary