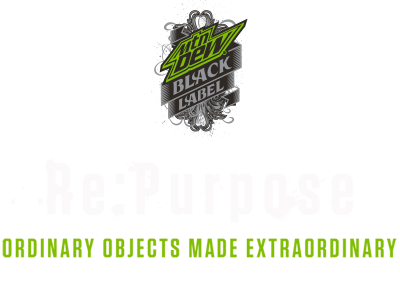 To celebrate the boldly refined taste of Mtn Dew Black Label, Green Label is curating an art exhibition, Re:Purpose, Ordinary Objects Made Extraordinary, featuring seven artists who fearlessly reinvent everyday materials. In partnership with Wallplay, Re:Purpose invites visitors to enter a surreal and playful world where Legos, iPhone parts, and old sneaker boxes are used to create elaborate works of art. All materials offer a different perspective on their new, often improved, use as art objects.
What all of these artists have in common is their dedication to creating extraordinary works with unexpected media, repurposing and thereby reinventing objects we may have never viewed as art. Is a kevlar vest better suited as a teddy bear? Are your old shoeboxes proving to be more useful as a sculpture? With regard to purpose, this decision is in the eye of the beholder.
Dee & Ricky, two imaginative brothers from NYC, create original works from found objects that excite the child in all of us.
---
Dee & Ricky
Enter the whimsical world of Dee & Ricky, two NYC twin brothers using a favorite childhood toy as one of their mediums: Legos. Their body of work includes deconstructed Lego hearts, bulletproof teddy bears made out of Kevlar and canvas, Christian Louboutin-reminiscent skateboard decks, and plush boxing gloves—all made from found objects and upcycled materials.
The two have been creating together from a young age, all the while their works flaunt oddity and playfulness. But just because they're kids at heart doesn't mean they're not hard at work; the two have collaborated wiith megabrands like Puma, Marc Jacobs, and Converse, while their designs have been worn by the likes of Kanye West and Beyonce.
---
see green label's coverage of the best emerging creatives remixing the ordinary