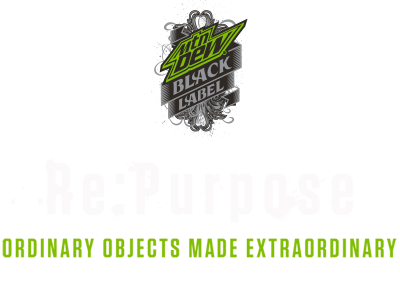 To celebrate the boldly refined taste of Mtn Dew Black Label, Green Label is curating an art exhibition, Re:Purpose, Ordinary Objects Made Extraordinary, featuring seven artists who fearlessly reinvent everyday materials. In partnership with Wallplay, Re:Purpose invites visitors to enter a surreal and playful world where Legos, iPhone parts, and old sneaker boxes are used to create elaborate works of art. All materials offer a different perspective on their new, often improved, use as art objects.
What all of these artists have in common is their dedication to creating extraordinary works with unexpected media, repurposing and thereby reinventing objects we may have never viewed as art. Is a kevlar vest better suited as a teddy bear? Are your old shoeboxes proving to be more useful as a sculpture? With regard to purpose, this decision is in the eye of the beholder.
Featured Re:Purpose artist Evan Yee is consciously turning old Apple products into art pieces, creating strong messages that speak to modern society's relationship with technology.
---
Evan Yee
The art of Evan Yee lives at the intersection between digital and physical. His works, which recycle old Apple product parts into refined art pieces, aren't a cliché representation of technology's downfalls, but rather symbols of dystopian societies, embracing tech's increasing influence on our everyday lives. And because technology is an unspoken language we can all speak, his work brings its audiences together in powerful ways.
To showcase in Re:Purpose, Yee selected pieces from the "fake Apple store" he created in a past art series. Included in the selections is his iconic Pinwheel of Death, representative of the rainbow-colored spinning circle that appears when Macbooks load web pages. Partially a play on the relatable frustration that comes with the symbol, the Pinwheel of Death also illuminates technology's ability to control our emotions in many ways that we don't realize.
---
see green label's coverage of the best emerging creatives remixing the ordinary