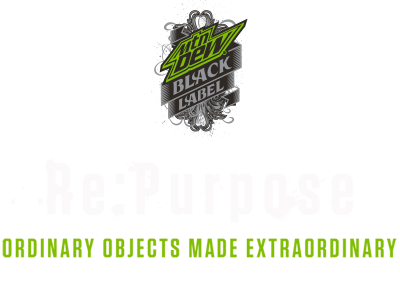 To celebrate the boldly refined taste of Mtn Dew Black Label, Green Label is curating an art exhibition, Re:Purpose, Ordinary Objects Made Extraordinary, featuring seven artists who fearlessly reinvent everyday materials. In partnership with Wallplay, Re:Purpose invites visitors to enter a surreal and playful world where Legos, iPhone parts, and old sneaker boxes are used to create elaborate works of art. All materials offer a different perspective on their new, often improved, use as art objects.
What all of these artists have in common is their dedication to creating extraordinary works with unexpected media, repurposing and thereby reinventing objects we may have never viewed as art. Is a kevlar vest better suited as a teddy bear? Are your old shoeboxes proving to be more useful as a sculpture? With regard to purpose, this decision is in the eye of the beholder.
With an ambiguous identity, infamous NYC street artist Gazoo to the Moon constructs lucid wall graphics out of ordinary tape.
---
Gazoo To The Moon
Famous for his "To the Moon" trademark scattered around NYC sidewalks, Gazoo's artistic ethos boasts goodhearted inspiration.
After he transitioned out of a six-year career in hip-hop management, Gazoo explored graffiti art as an alternative creative outlet. As he evolved as a visual artist, he turned to colored tape as one of his materials of choice, tagging public spaces around the city with colorful patterns and geometric symbols. Now, you can see Gazoo's work in subway stations, featured in public installations, and brightening gallery walls.
---
see green label's coverage of the best emerging creatives remixing the ordinary