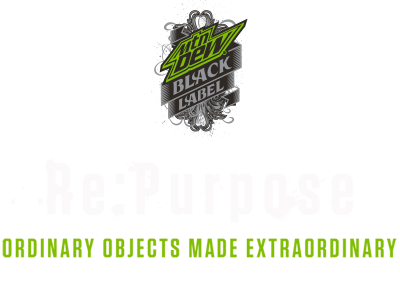 To celebrate the boldly refined taste of Mtn Dew Black Label, Green Label is curating an art exhibition, Re:Purpose, Ordinary Objects Made Extraordinary, featuring seven artists who fearlessly reinvent everyday materials. In partnership with Wallplay, Re:Purpose invites visitors to enter a surreal and playful world where Legos, iPhone parts, and old sneaker boxes are used to create elaborate works of art. All materials offer a different perspective on their new, often improved, use as art objects.
What all of these artists have in common is their dedication to creating extraordinary works with unexpected media, repurposing and thereby reinventing objects we may have never viewed as art. Is a kevlar vest better suited as a teddy bear? Are your old shoeboxes proving to be more useful as a sculpture? With regard to purpose, this decision is in the eye of the beholder.
Indie 184, born-and-raised NYC street artist, transforms vintage photographs into fearlessly vibrant graffiti murals.
---
Indie 184
With an urban upbringing in four out of five of New York's boroughs, Indie didn't choose graffiti—graffiti chose her.
With an impossible-to-ignore passion for art, Indie 184 quit business college to teach herself how to sew, paint, and graphic design. Since then, her style has become recognizable, juxtaposing real-world imagery with colorful spray paint doodles and designs. Most of her work celebrates iconic women in history, cementing her as a prominent feminist and expressionist in streets from South Bronx to Paris.
"Color is energy. Color is love," she said of her vibrant personality and aesthetic. "This life is full of negativity. Why not liven it up?"
---
see green label's coverage of the best emerging creatives remixing the ordinary