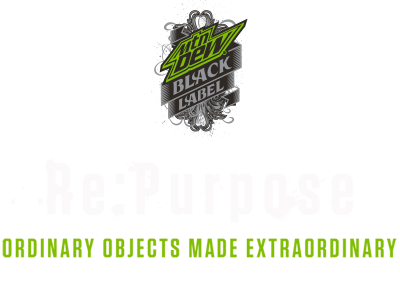 To celebrate the boldly refined taste of Mtn Dew Black Label, Green Label is curating an art exhibition, Re:Purpose, Ordinary Objects Made Extraordinary, featuring seven artists who fearlessly reinvent everyday materials. In partnership with Wallplay, Re:Purpose invites visitors to enter a surreal and playful world where Legos, iPhone parts, and old sneaker boxes are used to create elaborate works of art. All materials offer a different perspective on their new, often improved, use as art objects.
What all of these artists have in common is their dedication to creating extraordinary works with unexpected media, repurposing and thereby reinventing objects we may have never viewed as art. Is a kevlar vest better suited as a teddy bear? Are your old shoeboxes proving to be more useful as a sculpture? With regard to purpose, this decision is in the eye of the beholder.
One artist featured in Re:Purpose, Jonathan Rosen, boasts bold messages using recycled paper materials.
---
Jonathan Rosen
In Jonathan Rosen's popular I WANT series, he sources all sorts of found materials, from concert stubs to magazine cutouts and candy wrappers. Rosen pairs each collage with a with thought-provoking message beginning with the phrase "I want."
"I WANT started with my personal collections (concert stubs, baseball cards, high school yearbooks, business cards and things I've grown attached to) as source material. Here I discovered how these collections I've accumulated, were actually hiding secret wants that I've been afraid to expose in public."
---
see green label's coverage of the best emerging creatives remixing the ordinary